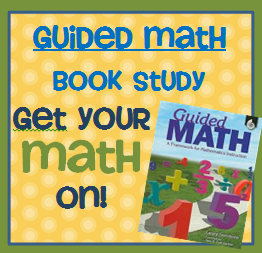 Before I start in with my thoughts about Chapter 2 I wanted to address a few questions I received about Chapter 1.
1. For which grade is this book targeted? Great question....and I don't know! I could find anything anywhere on the book that outlined a specific grade level. From what I have read so far (up to Chapter 4), it seems to me that it is more of a framework than an actually grade specific program. I currently teach Grade 4 and I think it would work wonders with my student, however I previously taught Grades 7 and 8 and can also see it running well in those grades.
2. Do you have a math curriculum, or are you pretty much on your own? Brenda, from Primary Inspired, also answered this question in my comment section. She wrote "
I think you'll find that Guided Math aligns well with Everyday Math. I used the Guided Math framework with EDM last year & it worked well. Part 1 fits well as the whole group mini-lesson, Part 2 can either be part of small group or workshop (depending on the activity), math boxes can be workshop, & Part 3 is perfect for small group. Remember that the whole framework of Guided Math is meant to be flexible & should work FOR you!"
I teach in Ontario, Canada and things are a little different here. Our curriculum is mandated provincially (we only have 10 provinces and 3 territories). In Math we have 5 different strands that we teach: Number Sense and Numeration, Data Management and Probability, Measurement, Patterning and Algebra and Geometry and Spatial Sense. We use four categories for assessment (these actually common across all of our subject areas), they are: Knowledge and Understanding, Thinking, Communication and Application. You can see an achievement chart with these categories in any of the Ontario curriculum documents.
If you are interested in seeing the Ontario curriculum click here.
Chapter 2
I really enjoyed reading through the Foundational Principles of a Guided Math Classroom. It was up-lifting and inspirational. I especially liked "we need to create an environment where students recognize the relationship between effort and learning". Love. It.
And, "ultimately, children are responsible for their learning"...oh my yes!
The section on page 39 that talks about the importance of communication in math just warmed my little language teacher's heart. Also, here in Ontario we have four achievement categories that we use to assess our students and communication is one of them. I have discovered that even students who are very proficient in their math knowledge struggle in this area. I hope that reading this book will help me instruct my students in this area. Communication has become such an important skill in our society. I think our students will need to be masters at communication because so much of our society is already based on the sharing of information through social media, texting, email, etc. If they can't communicate they will drown in the sea of words that is our society. I felt that the four characteristics of a productive classroom community for mathematics is something I want to keep close to my desk or in my planning binder for next year. Really valuable.
I was also struck by what Laney Sammons wrote about purposeful talk, so much so I made this poster! Feel free to click on the picture below to get your own copy.
Fonts are by Miss Tina Fonts.
I did notice that a lot of what I was reading reminded me of the Daily 5 and the importance of building stamina with your students and the gradual release of responsibility. The organizational tips and ideas are very helpful as well. Just from reading through these first 2 chapters I really feel as though this is something I can do!
Sammons discusses each of these topics more in depth:
- student calendars or agendas
- problems of the day and problems of the week**
- word wall and vocabulary displays*
- math-related children's literature**
- math books by student authors**
- math connections to other curricular areas
Wow! That is a lot of stuff. I believe there is too much here to tackle all at once or even in one year. I have put one * beside those ideas that I have already used or tried in my classroom, and two ** beside those that I want to try next year. I think I will have more success if I start slow and I don't want to overwhelm myself and then just drop it all.
I hope you all are enjoying this book as much as I am. I can't wait to sit down and read some of your posts now that I have some free time.