You see what I did there? I stretched out stretches....cute? No? Well, it was up to 98 degrees in some of the classrooms in my school today so my brain might be fried!! 6 days...6 days...6 days...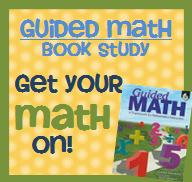 Anyway, let's talk about something more exciting....Chapter 3 of Guided Math! This chapter was my aha! chapter. I loved everything about it and it really made me feel like this something I can implement into my class next year. Not just something I can implement, but something I WANT to implement. For me, Math Warm-ups will be my number one goal to start in September.
I have tried many different types of "bell work", "minds on" and other such activities in the morning but nothing really worked well or at least well enough hat I was happy with it. Last year, after the Book Whisperer Book Study, I tried having my students independent reading every morning when they arrived at school before we started class. I really liked it. It worked well, the students knew what to do and they easily transitioned into the school day. But...then I would stop them reading and start Math class! So after my students were in a literacy frame of mind, we would immediately start math. Needless to say, we didn't keep up the reading all year because it just didn't make sense.
Now, I have a new plan. Math Stretches!!!
If I plan to start my teaching day with math then it just makes sense that my students should start their day warming up to math. I will keep the independent reading routine in place as well, but instead I will move it to the beginning of my literacy block...where it should be.
I was really struck by how much of this book reminds me of The Daily 5. I have the word "stamina" written all over the margins. I think that a lot of what the sisters write about muscle memory applies well here and that actually using the two programs/ideas/systems (etc) in conjunction would be a great idea! On page 69 I highlighted almost the entire 2nd paragraph and wrote "MY GOAL" in bright marker. How amazing would it be to be able to describe your math class with words like "respectful ambience", "student participation", mathematical vocabulary", "big ideas". I want to be able to recognize the value in my students' comments and construct meaning that prompts students to dig deeper.
This I feel is my own personal greatest area of need. I am, myself, a good math student, but I do not feel that I have enough experience as a math teacher to really feel comfortable analyzing my students comments in the moment. This is something I want to get better at.
I loved all of the math stretch ideas presented in this chapter and my mind has been whirling every since. As a relatively new math teacher, I appreciated how each activity was broken down and explained in detail. I feel confident that this is something I can start in my classroom next year on Day 1. I am also a HUGE routine/schedule person so the idea of doing the same activity each day of the week is right up my alley. I do think I would switch them around a little bit...
Monday- Data Collection
This would be a great refresher after a weekend away and simple enough that all students will be able to jump right in.
Tuesday- Number of the Day
Wednesday- What's Next?
I like the idea of using this Math Stretch in the middle of the week. Not really sure why, it just appeals to me. LOL
Thursday- ________Makes Me Think Of
Friday- How Did My Family Use Math This
Week?
I would like to move this to Friday because it could become part of my student's weekly homework and it gives busy parents a few more days to get it done with their children.
Some things I still want to think about:
- Calendar board- this idea interests me a lot but I am not sure how it would work in an upper primary classroom, like Grade 3? I am hoping that another book study participant is willing to share this and outline how this looks in their class.
- Problem of the Day/Week and Math Current Events- hmmm?
I am hoping to make a Math Stretch planning template and post it as a freebie soon. Now, I am off to read what other people are writing about this great book.