I apologize for the delay in yesterday's post for the Sleigh Full of Goodies...blogger and I were having a disagreement it appears. But we are okay today and I have 2 posts in 1!
Yesterdya's blog hop destination was Toad-ally Exceptional Learners. Alison has a great blog and we have collaborated on quite a few projects. I'd love for you to pop over and pick up her goodie today.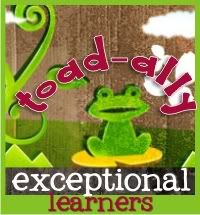 I can't believe that we are only one day away from the end of our amazing sleigh ride...and what a great ride it's been!