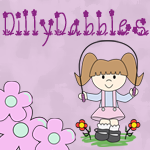 Melissa from Dilly Dabbles is today's co-host post.
How cute is her button?
Beth: First and most important, coffee or tea?
Melissa: Neither, I drink Diet Dr. Pepper.
Beth: Where is the world are you?
Melissa: Utah
Beth: What grades and subjects do you teach?
Melissa: I teach 5th grade.
Beth: Tell us a bit about your blog.
Melissa:
I started blogging because I loved learning all the great ideas other teachers were blogging about around the world and wanted to join the sharing and conversation.
Beth: Tell us three interesting things about yourself.
Melissa:
I have three children. I have taught first, third and fifth grade and been an instructional coach. I enjoy quilting.
Beth: This summer I really want to...
Melissa:
Relax, and spend time with my family. My sisters has been on a mission for our church for the last 18 months and comes home in June. We plan to spend a lot of time with her. She's the last single sibling and my kids adore her.
Beth: Why did you want to be a co-host for the 100 Minutes Book Study?
Melissa:
I have always done an hour reading block for guided reading and this really intrigued me to see how I might be able to do more and fit more in with the other language arts areas.